The first book town was pioneered in 1961 by an entrepreneur named Richard Booth in Hay- on-Wye, a small market town on the border of England and Wales. The concept, as innovated by Booth over several years, consisted of buying up stocks of defunct or under-utilised property in a declining rural town, and turning them into bookshops. The town became a "town of books", a concept which then created a unique destination identity. This concept which makes large amounts of second-hand and antiquarian books available to everyone, is one of the most successful new tourism developments, and offers an exemplary model of sustainable rural development and tourism. Originally Hay was conceived as a specialist retail development, rather than a tourism development. But by 1995 the "town of books" was generating a million tourists a year, up to a third of them thought to be international, and had made the name of a tiny border town of 1500 inhabitants world famous for more than two decades. The results of a study from Professor A. Seaton of Strathclyde University in Scotland (UK) suggests that Hay has been one of the most successful new British tourism developments since the war, outperforming comparable towns elsewhere and making a major contribution to tourist numbers in Wales, particularly those from overseas. The study further suggests that book towns offer exemplary models of sustainable rural tourism for several reasons. In the last five years there has been a striking expansion of book towns worldwide. In 1990 there were four (Hay on Wye in Wales, Redu in Belgium and Becherel and Montolieu in France). There are now thirteen book towns either in development or under consideration in Europe, Asia and America. The book towns, all being small rural towns, have a large number of book shops and a large number of visitors.
| | | | | | |
| --- | --- | --- | --- | --- | --- |
| Book town | Hay-on-Wye (UK) | Redu (B) | Bredevoort (NL) | Fjaerland (N) | Montolieu (F) |
| Number of book shops | 34 | 24 | 22 | 12 | 12 |
| Number of visitors 1996 | 700.000 | 300.000 | 100.000 | opened mid 1996 | 100.000 |
Hay-on-Wye in Wales was founded in 1960, Redu in Belgium in 1984, Montolieu in France in 1989, Bredevoort in the Netherlands in 1992 and Fjaerland in Norway in 1996.
Hay is a small, historic market town in Wales with a population of 1500. It is set among the Black Mountains of the Welsh Marches on the River Wye, which was celebrated in the late 18th century as one of the three great picturesque regions in Britain, the other two being Scotland and the Lake District. Hay has steep streets, an elegant town hall, a ruined castle and gabled cottages. In 1964 the Council for British Archaeology designated Hay a town of particular historic quality. Despite its charm and quietness Hay, as a small border town on the rural periphery of both England and Wales, was never a place that attracted many visitors. For much of the nineteenth century it was a workaday agricultural town and, like many others, began to decline in the twentieth century. Between the wars it was most often seen as a brief stopping spot along a chain of Wye destinations rather than a principal attraction. Other towns in the Wye Valley such as Rhayader, Builth Wells and Llandrindod were more popular. After the war Hay's decline continued, and by the mid-1950s, it had a decreasing number of shops, two cafes, and only two hotels. Its renaissance as a book town began in 1961 through the efforts of a singular entrepreneur, called Richard Booth. When he left Oxford, he inherited a small legacy and noticing that the cinema in Hay (to which his parents had retired), was up for sale, he decided to buy it and convert it into a bookshop. Within a short period he was calling it the biggest second-hand book shop in the world. The success of the shop allowed him to buy up more property in Hay including a former fire station, an old warehouse, and in the 1970s, the ancient castle of Hay - all of which he filled with old books. By the late 1970s the biggest bookshop in Britain had become the first book town, and Hay was said to contain over a million books. The town quickly achieved national and international fame which was partly due to the novelty of the book town concept, but equally to Booth's flamboyant personality and the spectacular, highly publicised run-ins he managed to engineer with government bureaucracies. On April 1st 1977 he declared "Home Rule for Hay" and appointed himself King. This started as an off-the- cuff joke but was taken so seriously by local councillors and the media, that Booth decided to develop the idea into a printed manifesto, "Independence for Hay". The stunt achieved world- wide publicity. For many years Hay was seen as an eccentric book town and nothing more, but in the early 1990s, as similar ventures were started in France, Belgium and the Netherlands, the Scottish Tourism Research Unit at the University of Strathclyde, initiated a project, supported by Scottish Enterprise, to investigate their economic effects in peripheral rural areas. The first research report showed how the growth of Hay as a book town had had an astonishing economic effect on its region, and to some extent on Wales as a whole.
Redu, village du livre, Belgium

Redu is a small historic village with a population of 450, in the Belgian Ardennes, one hour from both Luxemburg and Brussels, two hours from the Ruhr and the Netherlands, and three hours from Paris by the Autoroute de L'Est. It is thus at 1-3 hours driving distance of a population of 20-30 million. It can claim to go back 1100 year to the days of Charlemagne. In 1984 there was one shop in Redu. There are now more than 50. These include: 24 bookshops, 5 galleries, 11 restaurants, a paper manufacturer and a bookbinder. In Redu, like Hay, the development of book shops has been accompanied or followed by the development of an ancillary retail sector directly, or vaguely related, to books including two antique shops and a number of galleries. The village has achieved massive coverage and claims to be the most successful village in Belgium and the leading tourist attraction in the Luxemburg/Ardennes region. Redu has developed a programme of cultural events to support the book town's appeal and complement its cultural character. One of the big annual events is the Nuit du Livre, when the book town is open all night and a diverse programme of entertainments are staged including jazz, rock and classical music. There are also performance artists, puppeteers, circus artists etc. and the restaurants, tea shops and galleries all stay open until the early hours of the morning.
Montolieu is a beautiful, historic town of 850 inhabitants (200 of whom are retired nuns) in the south of France. It has a history dating back to when Charlemagne founded the Monastery of St Jean de Mallast in A.D. 800. It has a 14th century church. It is located in the Aude at the foot of the Montagne Noir and built on a rocky ridge separating the gorges of two rivers in a typically Mediterranean village. Its present site was chosen by Roger de Trenceval in 1146. In the 17th century Louis XIV's minister, Colbert, established a Royal Manufactory which exported high quality woollen cloth. It is within 20 kilometres of Carcassone (France's third most visited tourist attraction). It is also close to other heritage attractions including: an18th century paper mill at Brouses, the 13th century abbey of Villelongue and the Cathare castles of Lastouirs and Saissac. It has a diverse variety of tourist features in its area including: lakes, rivers and streams (e.g.lakes of Lampy, Cammazes, Laprade and Canal du Midi); walks, horse riding, and horse- drawn caravan holidays; country inns; the caves of Limousis famous for stalactites and stalagmites; 20 kms is Castelnaudry, a centre for Blue Line Canal holidays.
It is close to large conurbations. One hour from Montolieu are Toulouse (with a population of 1 million and the oldest photographic museum in Europe), the Pyrenees, Narbonne and the sea. Two hours drive are Montpellier, Spain, Perpignan and Albi (with its Toulouse-Lautrec Museum). Most important, Montolieu is about 25 minutes from the prime Autoroute des Deux Mers which effectively links the town along a motorway chain which stretches north to Bordeaux and the Dordogne, east to Lyons, and north east to Paris. Montolieu is a medieval town of singular beauty, surrounded by fields of sunflowers, clear rivers and the cool forests of Southwestern France. It is a place which, even before books arrived, was visited for its beauty and history. Montolieu was founded as a book town on the initiative of Monsieur Brabant (who died two years ago), a bookbinder and curator of the Museum of Bookcraft . The town was primarily launched through the involvement and participation of Richard Booth, the founder of Hay-on- Wye, who bought two properties, one of which was opened as the first book shop, and the other as the Café du Livre, which is also the base for the International Inkwell, a hotel for writers which hosts international literary groups in the summer.
Montolieu set out to establish, not just a town of bookshops, but to create a broader cultural entity, themed to books, which included retail and exhibition materials relating to a range of writing and graphic arts. In publicity it calls itself "Village du livre et des arts graphiques". Its mission is expressed in its publicity: "Since 1990 as (the book town for Southern Europe) Montolieu aims at gathering all aspects of writing and the graphic arts together in one single place. Interest has been shown by shops dealing in old and rare books, in second-hand books, by bookbinders, engravers and craftsmen in all the graphic arts. A number of shops have already been opened or are being prepared. Workshops, new shops and exhibitions are being planned. At the same time, the project, "Memoire du Livre", aims at making Montelieu a living Book Museum and an ultra-modern centre for the restoration of manuscripts, books and documents and for the teaching of these techniques.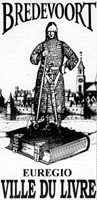 A Dutch town of 1600 inhabitants, Bredevoort is part of the Municipality of Aalten and is located in the part of East Guelderland known as "De Achterhoek", about 5 km from the Dutch- German border. It is on the main provincial road from Winterswijk to Aalten and is only 15-20 minutes from a major motorway which gives it easy access to the conurbations of West Holland (the Hague, Rotterdam and Amsterdam can be accessed by car within 2-3 hours), Belgium, the German Ruhr areas and Cologne. Bredevoort is the birthplace of Rembrandt's second wife, Hendrikje Stoffels. A fortified garrison town, it was a bone of contention between the bishops of Munster and the lords of Guelderland, who took turns in ruling the town. Most of the buildings in the old part of the town date from the 17th century and have a highly picturesque appearance, including a small windmill which dominates one part of the town. In 1988 the town celebrated its 800th anniversary. One of Bredevoort's innovations was the production of a corporate logo for the town which features a chainmailed crusader standing guard over a book. It is used on all the book town's printed artefacts- leaflets, wrapping bags and gift bags. The Book Town was officially opened on August 27th 1993 by Dr. J.C. Terlouw, Royal Commisionar of Guelderland, who is also a writer of children's books and patron of the Bredevoort Booktown Foundation. Twelve booksellers were by then established in 7 shops in Bredevoort. The launch included a large bookfair at which 160 booksellers were represented, which attracted 12.000-15.000 people. The launch featured an events programme which included: a Reynard the Fox exhibition, book valuations, and exhibitions of bookbinding and literary etchings. There was also a poetry reading night on the 17th century moat, and evening lectures, theatre performances and literary readings.
Fjaerland in Norway is a six hours drive north of Oslo and about five hours from Bergen. It is a small village of 300 inhabitants in the municipality of Balestrand, in the Sognefjorden region, a spectacular area famous for its glaciers, fjords and magnificent clean environment. The book town was established as a deliberate tourism venture rather than a retail development. Fjaerland already had a major attraction, the Norsk Bremuseum (The Glacier Experience Centre) which annually attracts 90,000 visitors, mainly day visitors. A Museum of Tourism is also planned for Balestrand, the first in Norway. The book town was launched in June 1996 with considerable publicity and the participation of the Norwegian Minister of Culture, Richard Booth of Hay-on-Wye, and Jostein Gaarder the author of the best selling novel "Sophie's World" (who had spent his honeymoon at the Hotel Mundal).